Top 5 Things to Do in Miami: Ultimate Guide
Miami is one of the most vibrant cities in the United States, and its entertainment scene reflects that energy. The city is constantly growing, with new restaurants, clubs, and bars opening up all the time. Thus, if you're looking for an unforgettable night out, there are plenty of options to choose from. In this article, we'll be going over the top 5 things to do in Miami, from going to recording studios, clubs, and restaurants to visiting the beautiful design district and beaches.  
Miami Night Life
First, Miami is famous for its nightlife. The city carries some of the most exclusive and luxurious nightclubs in the world, with E11even and LIV being two of the most popular.
E11even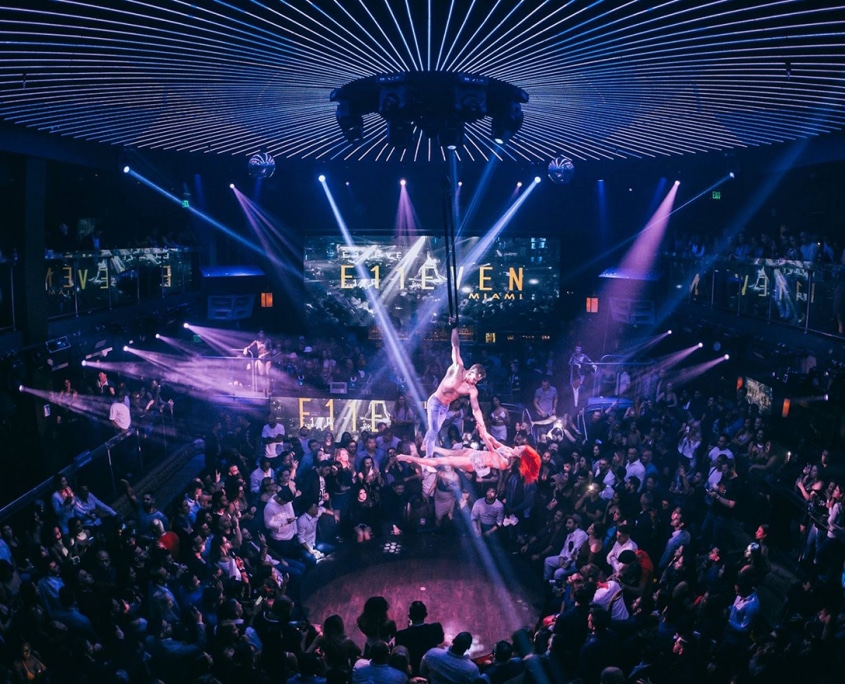 E11even is known for its high-end entertainment. Featuring everything from live performances to DJs playing the latest hits. The club has also hosted some of the biggest names in music, including Cardi B, Ty Dolla $ign, and Rick Ross. Additionally, 2 out of these 3 artists have recorded here at Bay Eight Recording Studios Miami. 
LIV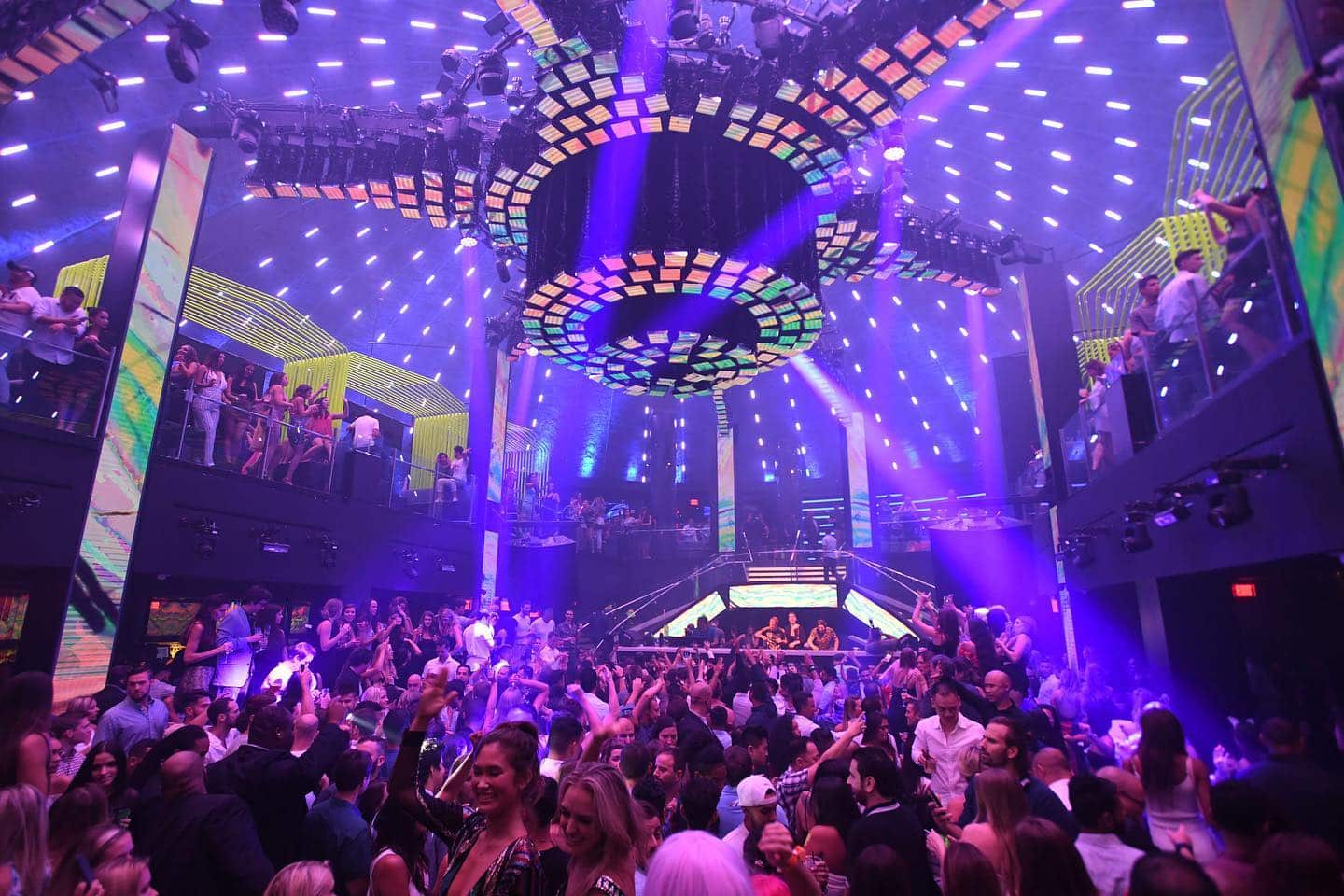 LIV, on the other hand, is known for its beautiful design and celebrity sightings. The club hosts a massive dance floor and a variety of VIP tables, making it the perfect spot for bottle service. LIV is also home to some of the most exclusive events in Miami, featuring performances by world-recognized DJs and musicians like, Zedd, David Guetta and parties hosted by Maluma. 
1-800 Lucky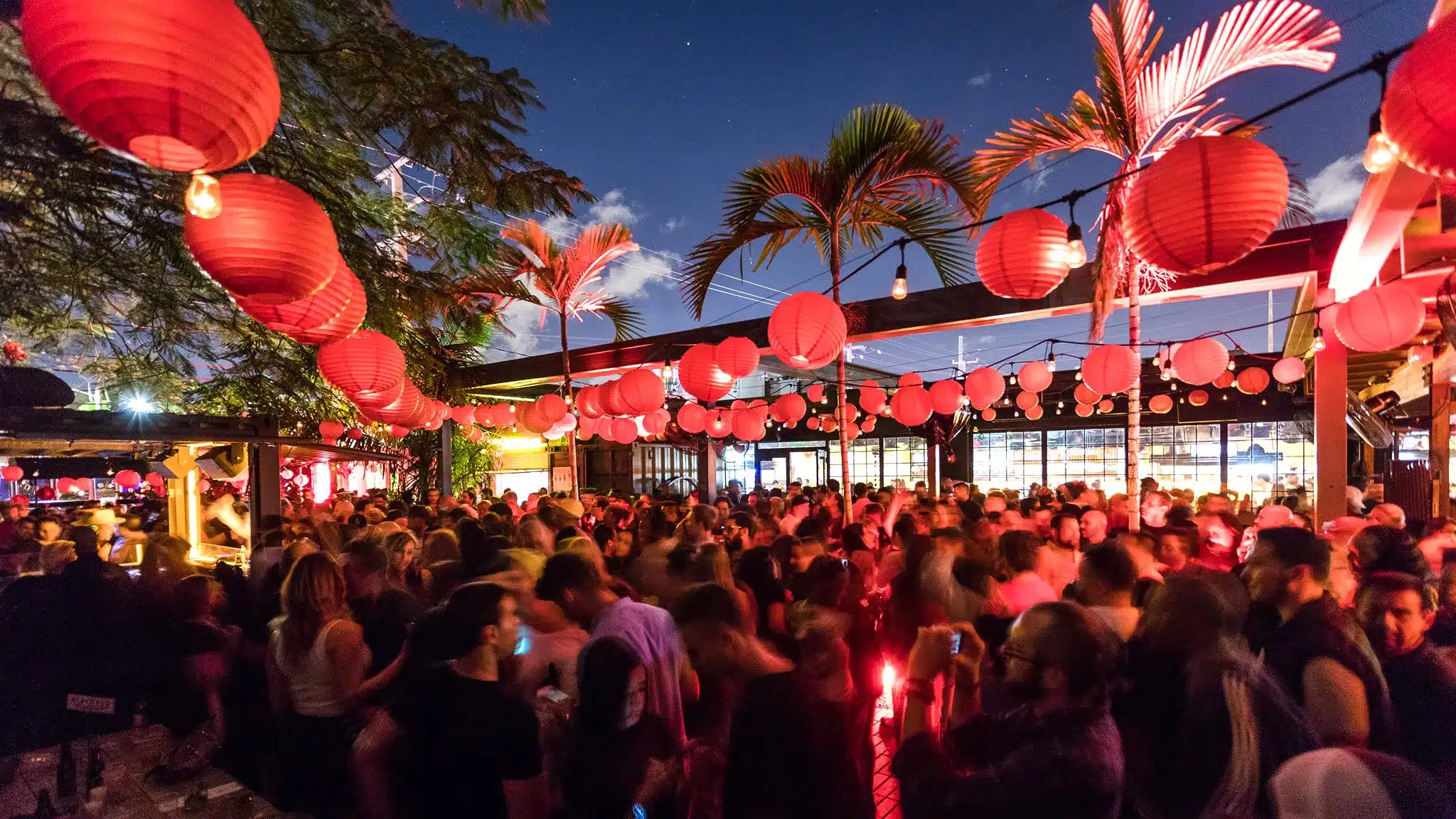 If you're looking for a unique nightlife experience, Miami has plenty of options for that as well. One of the most interesting spots to check out is 1-800-Lucky. An Asian-inspired food market that transforms into a bar at night. The venue also features a variety of food options, from sushi to ramen to bao buns. Making it the perfect spot to grab a bite before hitting the dance floor. 1-800-Lucky also features local Miami DJs playing a variety of music genres, making for a fun night out.
Tea Room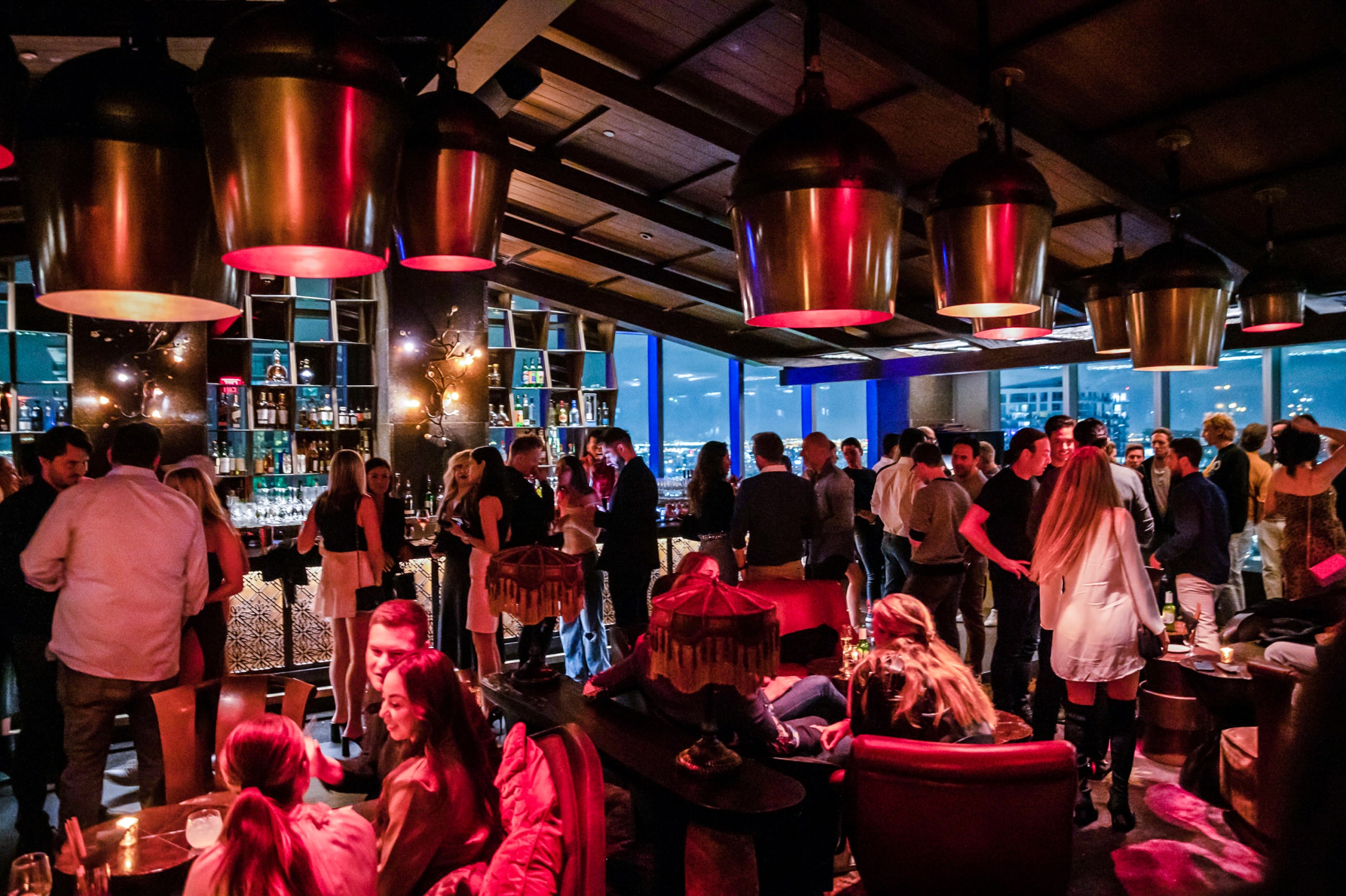 Another excellent option for a more intimate nightlife experience is Tea Room, a speakeasy located in Brickell at the East Miami Hotel. The lounge/speakeasy offers unique cocktails and live music, as well as a night brunch that's exclusive to Tea Room. Unquestionably, the venue's Hong Kong-inspired interior and vibe make for a one-of-a-kind experience. As well, the speakeasy is a great spot for a date or a night out with friends. After coming to visit Bay Eight Recording Studios Miami, the tea room is a great spot to wind down with a drink. 
Clubs Conclusion
In conclusion, Miami is one of the most exciting and dynamic cities in the United States. Its entertainment scene reflects that energy. Whether you're looking for high-end entertainment, exclusive nightclubs, or unique nightlife experiences, Miami has something for everyone. By visiting these top nightlife spots in Miami, you'll get a taste of what the city has to offer. 
Miami's Best Restaurants
Now let's look into the realm of Miami's best restaurants. You'll discover a culinary scene renowned for its superb fine dining and diverse flavors. While these restaurants may fall on the pricier side, they offer some of the best food in South Florida.
Gekko
Topping the list is Gekko, a Japanese Steakhouse and Lounge owned by Bad Bunny. This upscale restaurant provides a luxurious setting to a Japanese feast, whether you opt for shareable dishes or delicious dinner plates. Gekko presents the perfect opportunity to savor a high-end Japanese dinner before coming to Bay Eight Recording Studios Miami.
Papi Steak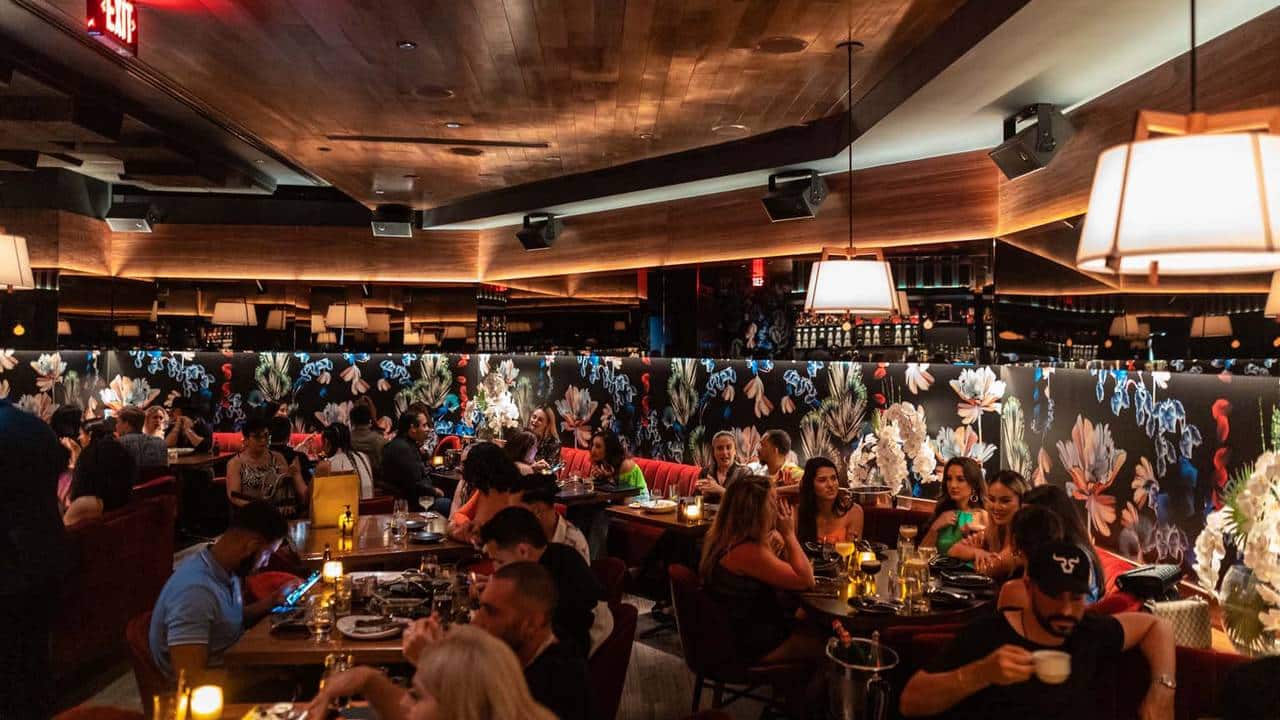 For a delicious dining experience, consider visiting Papi Steak. A modern Miami steakhouse with seating for up to 93 guests. The menu at Papi Steak showcases an impressive range of steak cuts and excellent seafood options. The quality of the meat and overall dining experience will not disappoint. With a DJ keeping the atmosphere alive until the early hours, the vibe at Papi Steak is sure to make your entire evening. Especially if you decide to stay for drinks. Despite its relatively simple menu, you can be confident that each dish will be nothing short of great.
Komodo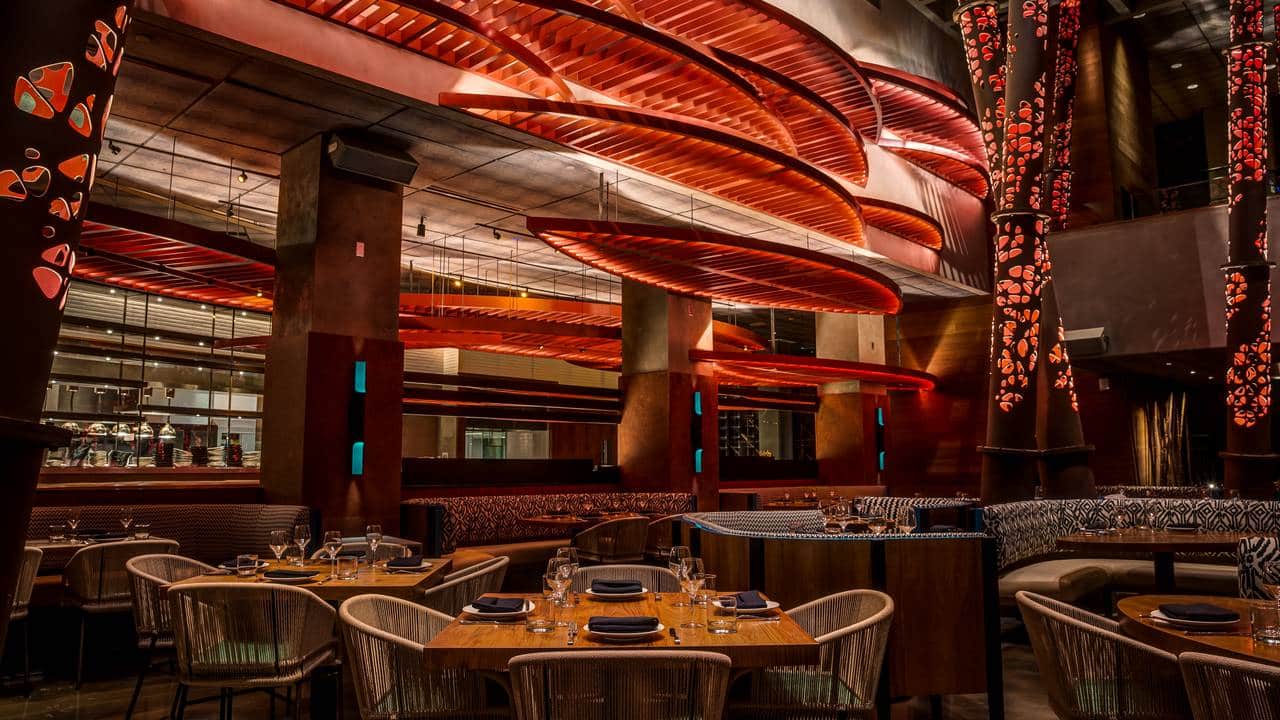 Another notable Miami restaurant is Komodo, an Asian fine-dining restaurant. With a diverse menu featuring a wide selection of steaks, sushi, and an array of appetizers and sides. Komodo provides a vibrant and lively dining experience. In addition, their drink options are an essential component of the overall experience. Offering a wide variety to complete your meal. Finally, with its bright ambiance and commitment to top-tier quality food and drinks, Komodo effortlessly carries the essence of Miami.
Swan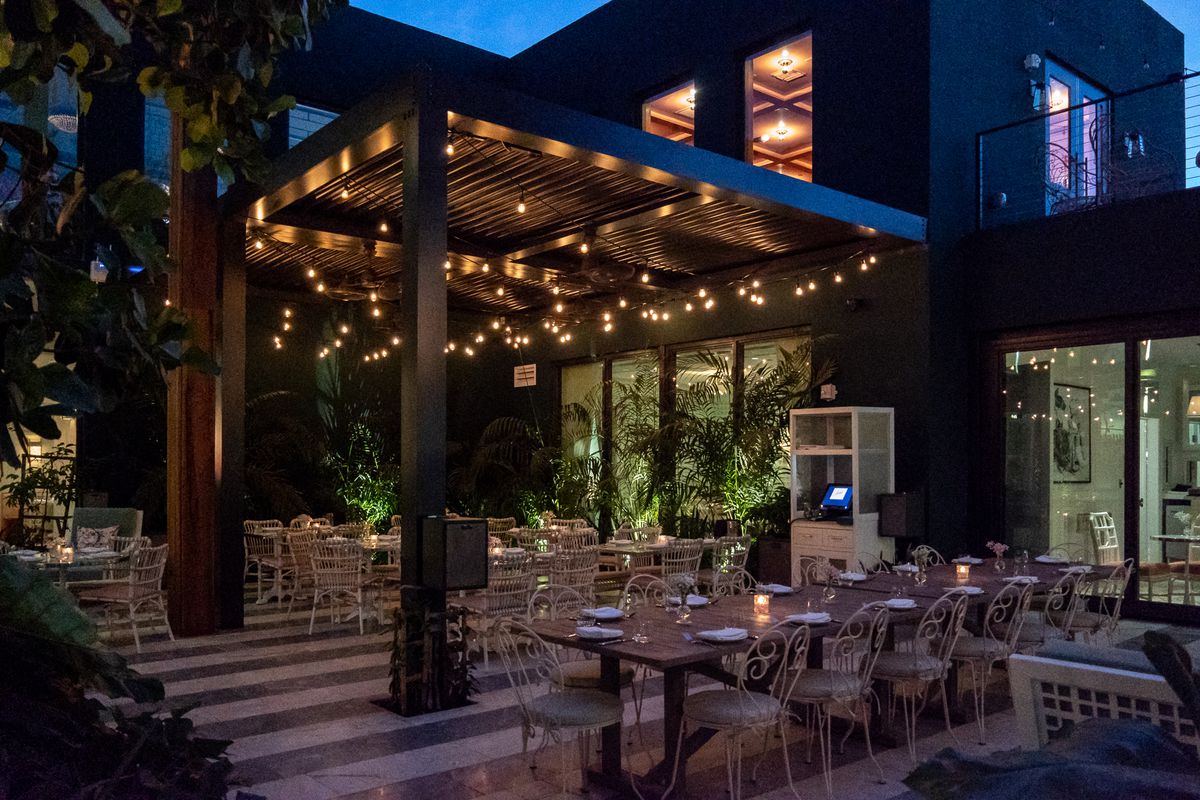 Completing the lineup of restaurant options is Swan. A fantastic choice whether you're seeking brunch, lunch, or a late-night gathering accompanied by delicious bites and refreshing drinks. Located in the vibrant Miami design district, Swan perfectly aligns with its surroundings by providing nothing short of great service. Recommended by our own studio Manager Kayla, the Margherita Pizza is something that should not be missed. 
Mila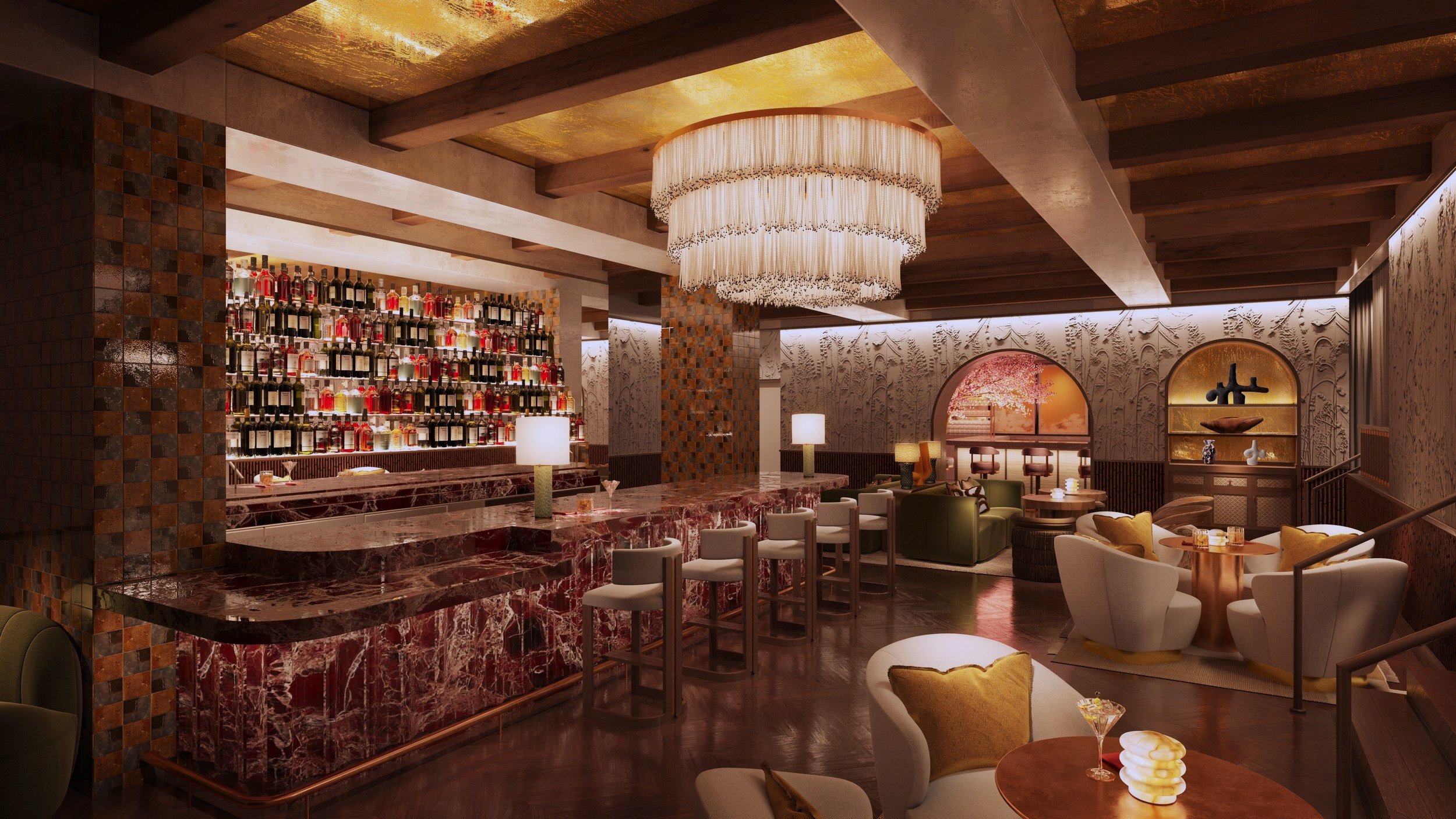 Lastly, we have the exquisite Mila rooftop restaurant, located in Miami Beach. Specializing in Mediterranean-Asian fusion cuisine, Mila brings a unique flavor profile that sets it apart from other restaurants. This great restaurant offers a culinary experience like no other. Blending the vibrant and diverse influences of the Mediterranean and Asia into an unforgettable feast for the senses. The breathtaking rooftop setting adds to the ambiance, allowing diners to enjoy their meal taking in panoramic views of Miami Beach. Mila truly represents the city's commitment to culinary innovation and provides a great addition to Miami's thriving restaurant scene. 
Moreover, Miami's culinary landscape impresses with its top-tier restaurants. From Gekko, a luxurious Japanese Steakhouse and Lounge owned by Bad Bunny, to Papi Steak, a modern Miami steakhouse. Offering delicious cuts of meat, each restaurant delivers an unforgettable food experience. Komodo attracts with its diverse menu of Asian flavors. While Swan captivates with its great service and delightful dishes. Finally, Mila rooftop restaurant in Miami Beach elevates dining to new heights with its unique Mediterranean-Asian fusion flavors.
In conclusion, Miami stands as a great place for those seeking entertainment, unforgettable nightlife, and great restaurants. This dynamic city vibrates with energy, offering a variety of options to satisfy every taste and preference.
By diving into the vibrant energy of Miami, exploring its nightlife, and enjoying the city's restaurants. You'll create lasting memories and embrace the true essence of this captivating city. Miami with its ever-evolving entertainment and culinary scene, brings you to experience a world where excitement, luxury, and unforgettable moments join.
Design District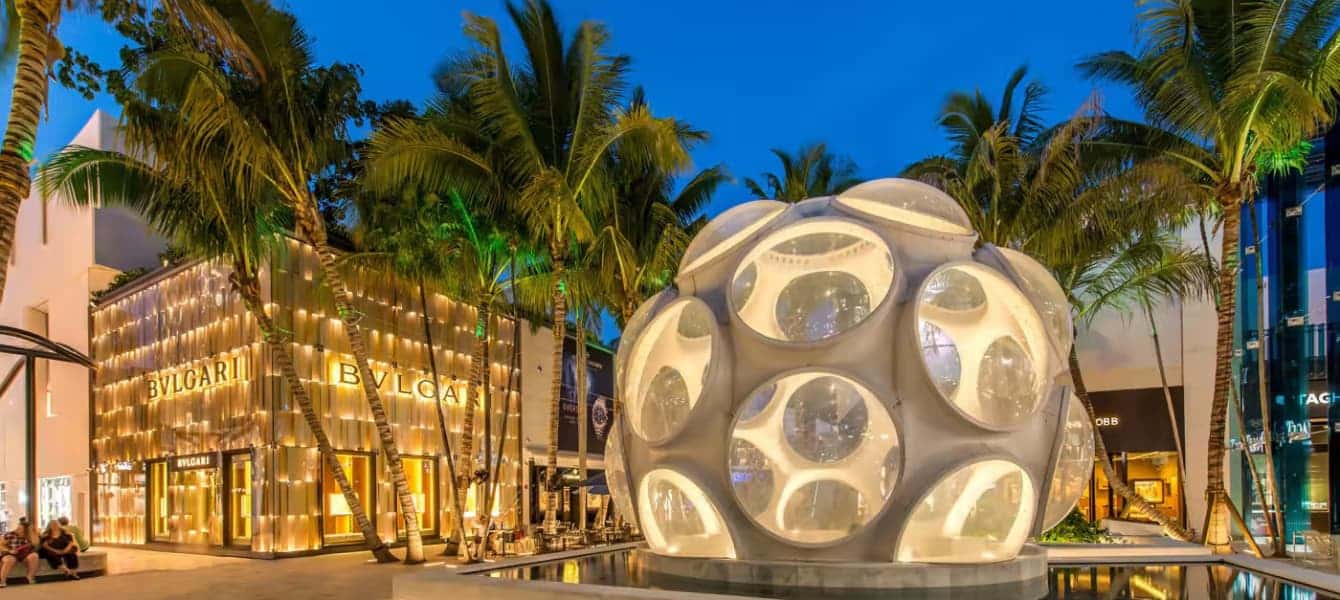 Moving on from restaurants, let's dive into the rich history of Miami's Design District. Originally, the Design District was an industrial area primarily built on factories and warehouses. However, in recent decades, it has undergone remarkable changes, evolving into a thriving hub for art, design, and luxury.
The district's change began in the late 1990s when visionary developers and entrepreneurs recognized its untapped potential. They saw an opportunity to create a unique and vibrant neighborhood that would celebrate creativity, craftsmanship, and innovation. The transformation started with the renovation of existing buildings, many of which were repurposed into chic showrooms and galleries.
Design District Today
As time progressed, the Design District attracted renowned architects, designers, and artists who sought to leave their mark on the area. Collaborations between international designers and local talents flourished, further enhancing the district's reputation as a hub of creativity and design.
Furthermore, the district's growth was also fueled by the establishment of art institutions, such as the Institute of Contemporary Art. These institutions played a pivotal role in creating a sense of artistic community. Attracting a diverse range of visitors, including art enthusiasts, collectors, and curators.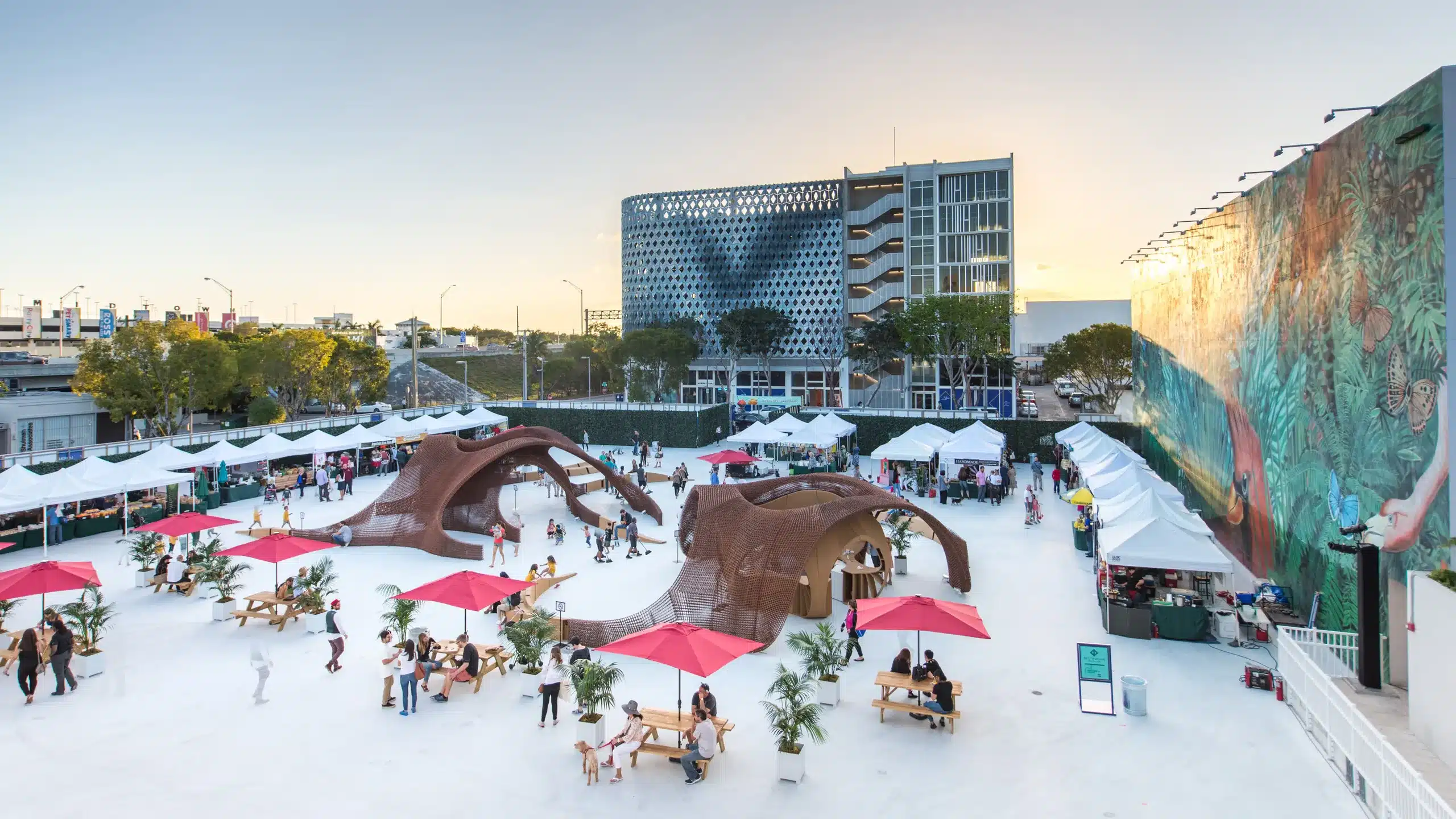 Today, the Design District stands as a testament to visionary efforts that transformed it into the stylish neighborhood it is today. Luxury clothing stores from renowned fashion houses dot the streets, creating a premier shopping destination for fashion enthusiasts worldwide.
While the Design District has undoubtedly evolved, it continues to pay homage to its industrial roots. Historic structures have been thoughtfully preserved, blending seamlessly with the modern architecture and design elements that define the district. This fusion of old and new creates a distinctive atmosphere that draws visitors and invites them to explore.
In summary, the Design District's captivating history highlights its remarkable journey from an industrial zone to a world-class destination for art, design, and luxury. Thus, by strolling through its streets, you can witness the ongoing legacy of creativity and transformation that has shaped this unique neighborhood. 
Miami Beach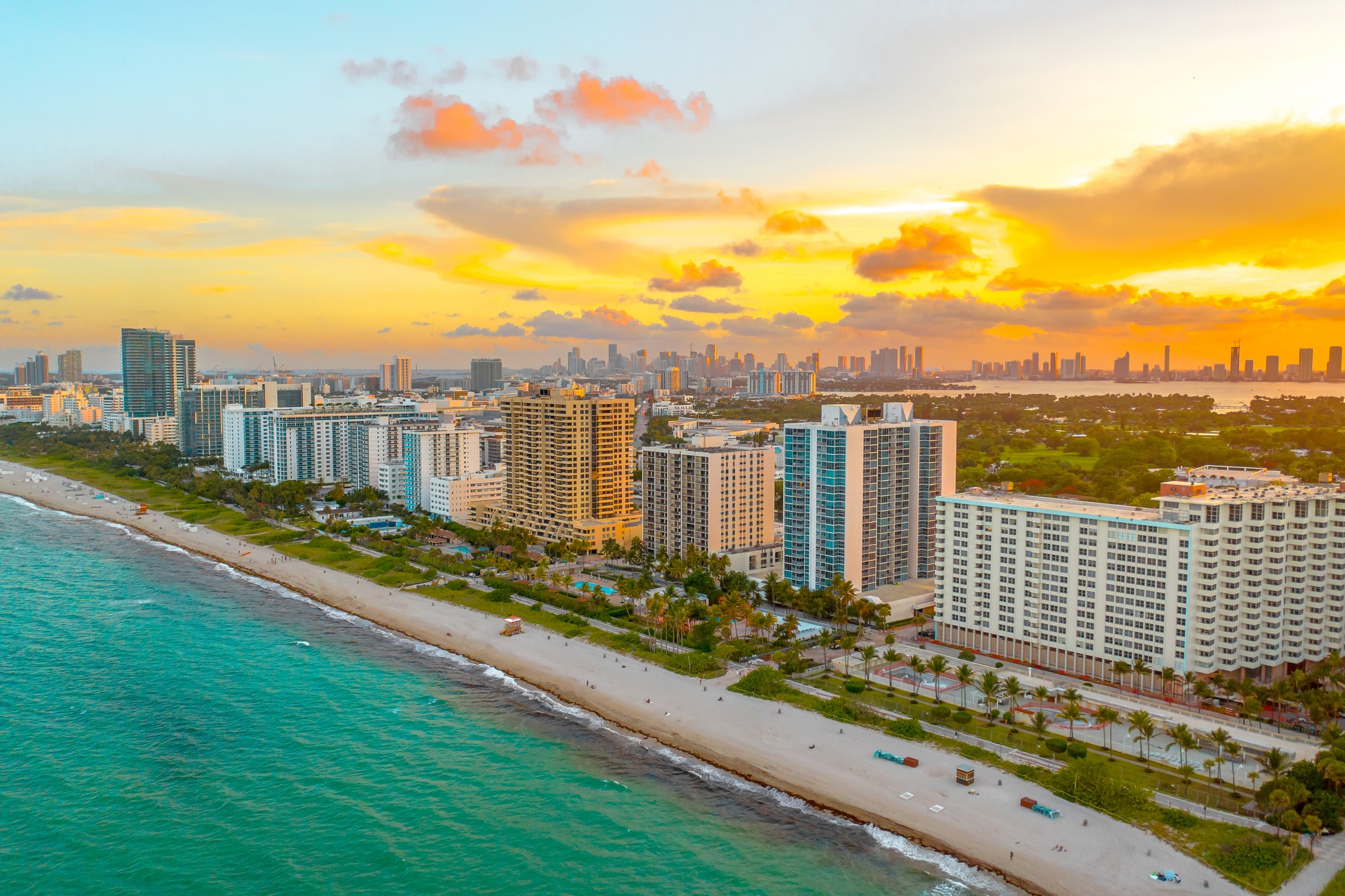 Miami Beach, a vibrant and iconic destination, perfectly complements the culinary delights found in the Miami Design District. With its stunning beaches, lively atmosphere, and a plethora of dining options, Miami Beach offers an extension to the culinary journey.
After indulging in the delectable flavors of Michael's Genuine Food & Drink, Mia Market, and OTL Miami in the Design District, venture over to Miami Beach to continue your epicurean exploration. The coastal paradise boasts a diverse range of restaurants, cafes, and bars that cater to all tastes and preferences.
Moreover, as you step onto the sandy shores of Miami Beach, you'll be surrounded by plenty of seaside dining options. Whether it's a beachfront seafood shack serving up the freshest catch of the day or a higher-end oceanfront restaurant offering gourmet meals. The beachside culinary scene is as diverse as it is captivating. Savor delicious seafood dishes infused with local flavors, and sample tropical cocktails. Soak in the breathtaking ocean views as you enjoy a dining experience that captures the spirit of Miami Beach.
Above all, embrace the vibrant energy of the city as you explore the bustling streets lined with trendy cafes and eateries. Treat yourself to a refreshing gelato or a perfectly brewed cup of coffee from one of the cozy cafes, providing a break from sun-soaked adventures. Whether you're craving a light bite, a meal, or a sweet treat, Miami Beach offers an of options to cure your appetite.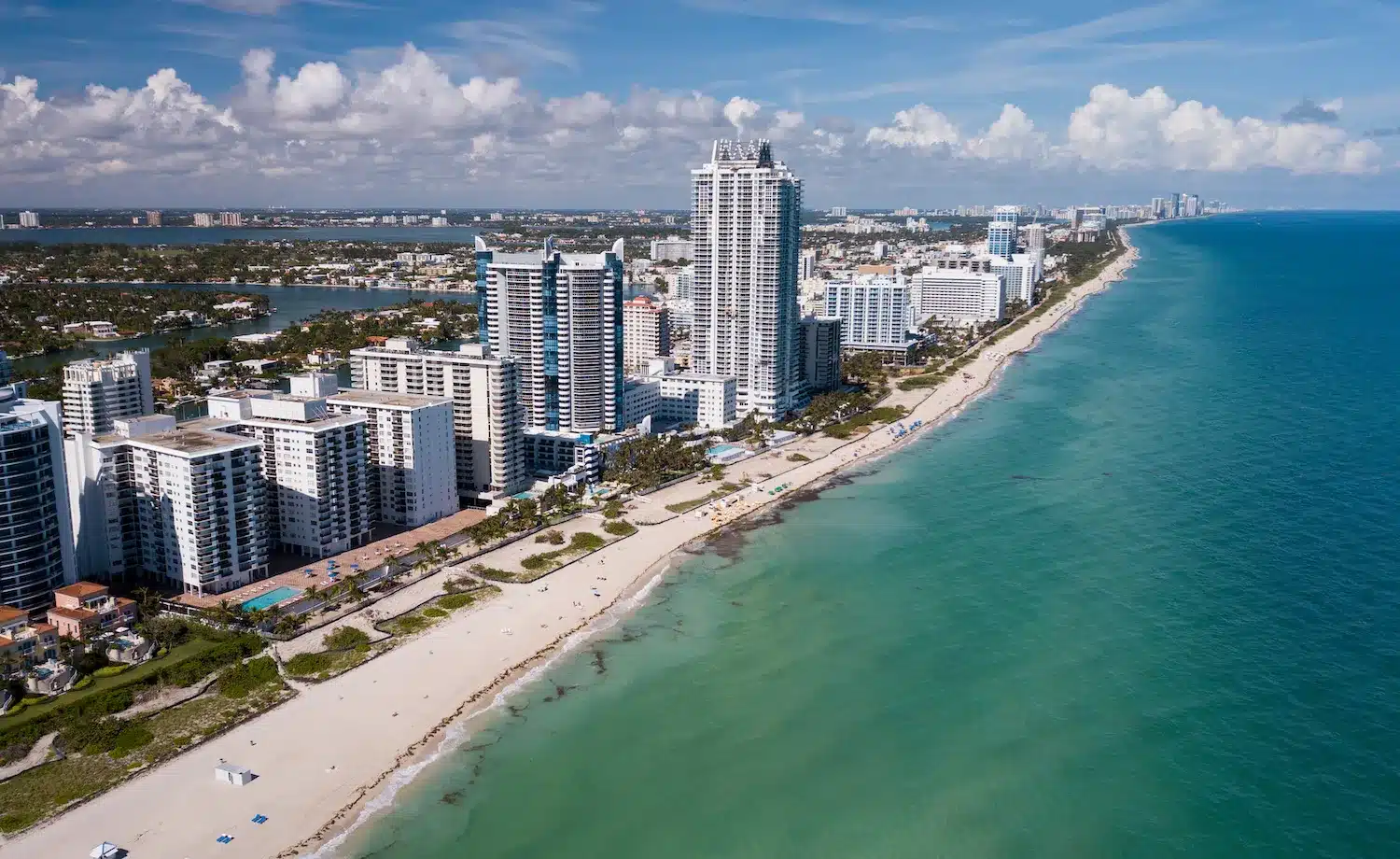 Beach Evenings
In the evening, as the sun sets over the horizon, Miami Beach transforms into a hub of nightlife and entertainment. From chic rooftop bars to trendy nightclubs, the city comes alive with music, laughter, and the clinking of glasses. Raise a toast to an unforgettable day of culinary exploration as you enjoy handcrafted cocktails. All while, dancing to the beats of renowned DJs, and immersing yourself in the vibrant nightlife scene that Miami Beach is known for.
Finally, Miami Beach provides the perfect complement to the Miami Design District. Whether you're savoring the flavors of farm-to-table cuisine, or enjoying a laid-back café experience, Miami Beach invites you to continue your food adventure. 
Conclusion
In conclusion, Miami calls you with its captivating blend of culture, entertainment, and culinary delights. From the vibrant nightlife of exclusive nightclubs to the unique experiences found in speakeasies like Tea Room, Miami's energy is palpable.
The city's dining scene is a feast for the senses, with top-notch restaurants like Gekko, Papi Steak, Komodo, and Swan. Each offers masterpieces that leave a lasting memory. Each bite transports you on a flavorful journey, showcasing the diverse and unique tastes of Miami's culinary landscape.
Exploring the Miami Design District adds another layer of excitement to your visit. Marvel at the stunning architecture, enjoy the gourmet offerings at Michael's Genuine Food & Drink, Mia Market, and OTL Miami, diving into the rich history of this vibrant neighborhood.
Furthermore, when you venture to Miami Beach, the journey continues. Bask in the sun-drenched beaches, relax in beachside dining that highlights fresh seafood and oceanfront views, and discover the trendy cafes and moving nightlife that make Miami Beach a destination like no other.
Bay Eight Recording Studios Miami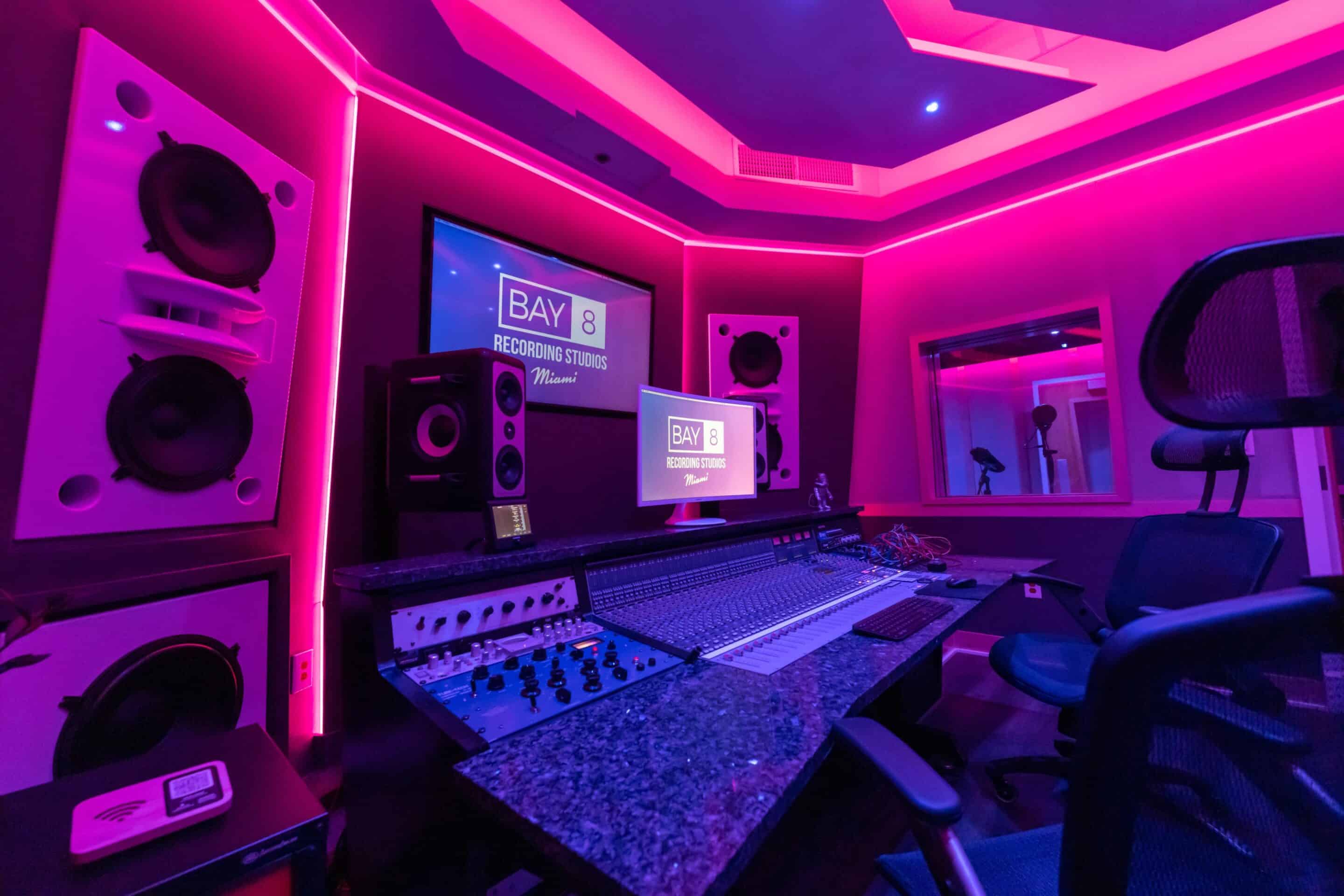 Finally, Bay Eight Recording Studios Miami stands as a legendary cornerstone in the city's music industry. With its exceptional facilities, experienced engineers, and a history of working with renowned artists. Bay Eight Recording Studios Miami offers a chance to create something extraordinary and be part of the city's musical legacy.
In the heart of Miami's vibrant music scene, Bay Eight Recording Studios has become an iconic recording studio that has shaped the music world. Since its opening, the studio has played an important role in new talent. Also producing chart-topping hits, and hosting legendary recording sessions that have left a permanent mark on the music industry.
Bay Eight Recording Studios boasts state-of-the-art facilities that cater to the needs of both aspiring musicians and established artists. Equipped with cutting-edge recording technology, acoustically treated rooms, and a vast array of instruments and equipment. The studio offers an amazing creative environment. Musicians can unleash their creativity and capture their artistic vision with detail and clarity, ensuring that their music reaches listeners.
What makes Bay Eight Special? 
What truly sets Bay Eight Recording Studios Miami apart is its team of experienced engineers, producers, and industry professionals. These skilled individuals bring knowledge and expertise to every project. Working closely with artists to develop their sound and elevate their music to new heights. Their dedication to excellence and commitment to artistry make them amazing collaborators to create something unique.
Throughout its history, Bay Eight Recording Studios has been the creative hub for renowned artists. From Grammy-winning musicians to rising stars, the studio has provided a place for artists to express themselves. The walls of the studio reflect unforgettable performances and inspire the music industry.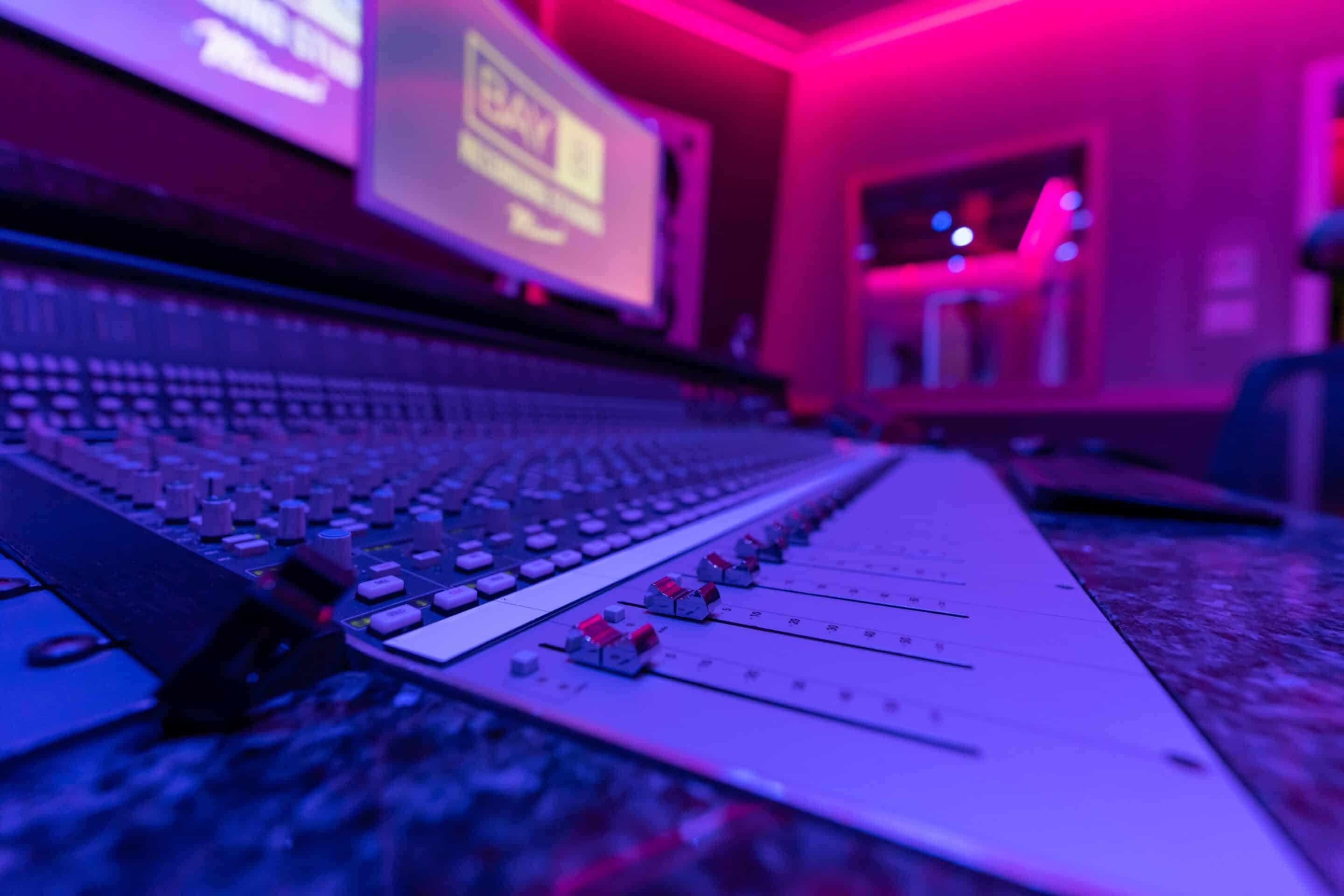 Beyond its amazing recording capabilities, Bay Eight Recording Studios Miami carries the spirit and energy of the city itself. Surrounded by Miami's lively culture, the studio serves as a meeting place for artists from all walks of life. It is a space where collaboration thrives, genres blend easily, and creative boundaries are pushed, reflecting the rich diversity of Miami's music scene.
Experience
For those fortunate enough to step through its doors, Bay Eight Recording Studios Miami offers more than just a recording experience—it provides an opportunity to be part of a musical legacy. By using the studio's world-class recording studios, working with industry professionals, and diving into the city's vibrant music culture, artists can tap into the creative energy that made Miami a hotspot for music.
In summary, Bay Eight Recording Studios Miami stands as a legendary studio in the city's music industry. It offers a great space for musicians to create, collaborate, and achieve their goals. With its top-notch facilities, experienced team, and rich history of working with renowned artists. The studio invites musicians to join its ranks and contribute to the thriving musical history of Miami.
Conclusion
Miami is a city, where lively experiences await at every turn. Henceforth, it is a place that leaves its mark, creating unforgettable memories that linger long after your trip.
So, whether you're seeking exciting nightlife, world-class dining, great design, or the opportunity to pursue your musical dreams, Miami invites you to bring yourself in its blend of art, culture, and excitement. Discover the magic of Miami and let its vibrant spirit pull you, leaving you wanting more for the day when you can return to this incredible city once again.